A Virtual Tour of PlanetTrek
Each of the ten PlanetTrek sites representing planets includes an imaginative sculpture designed to attract passers-by and convey some qualities of the solar system object represented at the site. The imaginative sculpture in the Mars site depicted here is a 24-inch diameter sphere of cast iron. Its rudy surface texture is engraved to look like Mars's actual reddish surface, based on images recently returned from Mars-orbiting spacecraft. The iron Mars sphere rests atop a 2.5-foot high "Desert Red" boulder.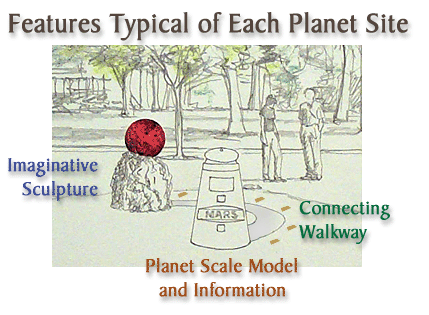 Having captured one's attention, upon walking over to investigate this compelling object, a walkway becomes apparent. The concrete path curves away from the iron planet-sphere toward a presentation of Mars in its true scale size. This scale-size component lies at the true scale distance form the Sun site, so looking 800 feet across the grounds, one sees the 5-foot diameter Sun at just the size it would appear, were you standing on the surface of the red planet. All the pertinent information about Mars appears on the pedestal holding the scale-size planet, which is only a third of an inch in diameter. And there's a "rubbing key," an icon in relief, from which kids can copy with chalk or pencil, as proof of having visited the site -- useful for school assignments or games.
Along the sides of the curving pathway, one notices several bronze plaques set at ground level. One of them says something like, "How many different kinds of life are there in the universe?" There are ten such plaques here at the Mars site, a hundred in all. Each poses an unanswered question of our time, intended to provoke thought and discussion.
Now that you know what in general to expect at each site, take a tour of all ten.
NEXT: VISIT THE SUN SITE

---