Planet Uranus Site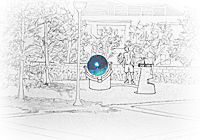 CLICK IMAGE FOR LARGER VIEW

The Planet Trek Uranus site, representing the first planet discovered using a telescope, a gas giant, has many possible locations, along an arc about the distance of Caltech from the Paseo Sun (illustration shows original location).

The Imaginative Sculpture, much larger than the scale planet, is designed to capture attention from afar, and convey some aspects of the planet Uranus. It consists of a gorgeous 36-inch diameter sphere of cast blue glass with a visible axis bar.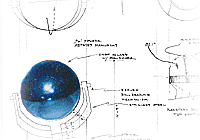 CLICK IMAGE FOR LARGER VIEW

The Imaginative Sculpture is intended to be reflective of Uranus's unique axial rotation and deep translucent atmosphere.

The base is a stainless steel yoke supporting the horizantal axis. A sealed ball-bearing internal mechanism lets the sphere rotate manually in a counter-clockwise direction. The yoke attaches to a rough-hewn stone on concrete footing. Approximate height with sphere is 4 feet 9 inches inches.

The Planet Scale Model is part of a unique planet orbital disk depicting the equatorial plane and the scale model planet on the angle of its polar axis. The base supporting the Planet Scale Model is a pre-cast, uniquely finished concrete pedestal, with informational insets and a title plaque in stainless steel, copper or brass, with etched enamel infill.

Both the Planet Scale Model and the Imaginative Sculpture are on concrete footings connected by a concrete arc with brass inset directional arrows and planet name. Ten "Great Question" plaques surround this site, set at ground level as with all the other sites.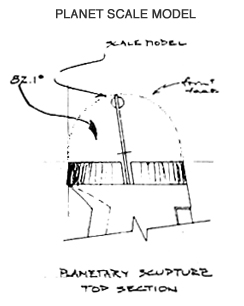 The detail at right illustrates how the scale planet Uranus model (a sphere about 1.2 inches in diameter, the correct size compared with the 3-foot diameter Sun about 6,186 feet away) appears on a metal surface inclined more than 90 degrees from level to represent the planet's natural equatorial tilt, atop a concrete pedestal with information and name plaques. Also present on the pedestal is a unique souvenir rub-transfer icon which may be used in school projects and promotional activities to provide evidence of visit.


Click here to see the artists' conception of a typical planet sculpture site, complete with scale model, imaginative sculpture, and the connecting walkway with its ten "Great Question" plaques.
NEXT: VISIT THE PLANET NEPTUNE SITE

---