http://PlanetTrek.planetary.org
UPDATED NOVEMBER 4, 2010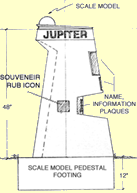 The Idea
We live under truly astounding conditions, and Planet Trek brings this fact down to Earth in the heart of Pasadena. As we breathe the thin film of air on a rare and fragile "pale blue dot," which sustains and protects us from minute to minute, we're going around one of countless stars orbiting a black hole in a massive, seething galaxy. Planet Trek is The Planetary Society's way of bringing an accurate planetary perspective to our work-a-day world at a crucial time in the history of life as we know it. Planet Trek celebrates the unique City of Pasadena, with its direct connections to interplanetary space, to education, to the history of astronomy, and to the arts.

Planet Trek is a proposed set of ten permanent sculptures at scale distances, centered in the very heart of Pasadena. Each of the ten Planet Trek sites will sport an attractive imaginative sculpture, and a scale model of a Solar System body: the Sun, with each of its eight classical planets including, of course, the one we live on. The "Beyond Pluto" site will serve as an introduction to Kuiper Belt Objects. Planet Trek's scale puts the Sun-Earth distance at about 100 yards.

The envisioned sites have a subtle attractive beauty that compels attention — as if jewels in the Crown City. When you investigate one, you'll see the planet's scale size and learn all about it. The much larger, imaginative hands-on sculpture near each small scale model suggests certain qualities about the planet. Some of them can be rotated, but they only move in the correct direction. Photovoltaic displays near the Sun site demonstrate renewable solar energy while generating useable power. There will be a map at each site, and when you follow it to the next planet, you'll realize just how much space there is in the real solar system where we live.

And that's the whole purpose of Planet Trek — to illustrate in a fascinating and enjoyable way, what an amazing universe we live in together.

Unique among Solar System Scale Models in the world, Planet Trek will feature 100 Great Questions of our time, engraved on 100 plaques set at ground level, ten at each site. Their purpose in Planet Trek will be to add stimulus for thought, wonder, and conversation. The complete set of ten Planet Trek sites will offer an unforgettable destination of discovery, fun, and "paradigm-shift" learning — a gift for inquisitive people of all ages.



Right for Pasadena
Planet Trek illuminates Pasadena's connections to interplanetary space flight, to the history of astronomy, to world-class education, to technology, and to art. Pasadena is the home of:

And, of course, many more institutions.

Planet Trek's marriage of science, technology, education, and art represents a highly appropriate cultural attraction for visitors to the city, and a treat for residents. It's educational, it's motivational, and it offers an enjoyable experience. School classes can visit the sites. Businesses can plan activities and special promotions connected with it. The outlying sites will draw visitors to Paseo Colarado and the historic Civic Center.



Right for Now
AND READY TO IMPLEMENT

This is the beginning of a century during which we humans have some important decisions to make about the future habitability of our planet. What, exactly, are we leaving to the next generations? This paradigm does not often frame our actions in daily life, but Planet Trek is right in the heart of Pasadena's busy center to help remind us how truly rare our planet is, among the stars. It ignites an invaluable planetary perspective in visitors to the sites: we're all on this little lifeboat of a planet together. Planet Trek's ten sites are intended to endure throughout this century, and affect generations to come.




A Winning Team
Renowned sculptors Jud Fine, Barbara McCarren, and Ned Kahn were selected in a world-wide juried competition for their brilliant design for Planet Trek. Click on their images below to learn more about each of them and their compelling accomplishments.
Barbara McCarren and Jud Fine

Ned Kahn with his wife


The Planet Trek project is under the direction of Charles Kohlhase (pictured at right) for The Planetary Society. An accomplished photographer and artist in his own right, Kohlhase is better known for having managed the science and mission design efforts for the JPL/NASA Voyager Outer Solar System Mission, the NASA/ESA Cassini-Huygens Mission to Saturn and Titan, as well as extensive design work on many other interplanetary missions. Click the image to learn more about Mr. Kohlhase.
Have a Closer Look
Take a virtual tour of the proposed Planet Trek installation. Start by viewing this page, where you'll find an illustrated description of the typical planetary sculpture site. From there, you can continue your tour of all ten Planet Trek sites as envisioned by our team of renowned sculptors.

of people who support the idea with enthusiasm. Many of them are prominent leaders in Pasadena. In 2006 the Pasadena Unified School District passed a very enthusiastic resolution endorsing Planet Trek.

There are several other notable large permanent solar system scale models around the world. The image above left shows a Saturn model, part of the Solar System Walk in the Swiss Alps. Planet Trek in Pasadena will be among the finest, and arguably the most intriguing. Planet Trek is unique with its 100 Great Questions and its solar-electricity demonstration. Click the image for more information on some other Solar System Scale Models. You'll also see how you can make a scale just right for your school.




Current Status
Based on strong consensus within the City of Pasadena, Paseo Colorado Management, and others, the Sun site has shifted from Central Park to the Central Circle of the Paseo Colorado Plaza near the Garfield Avenue View Corridor. The scale has changed, resulting in a 36-inch diameter Planet Trek Sun, which will hover above the widely used Central Circle. This brings two or three inner planet sites onto Paseo Colorado grounds, and offers extraordinary sites for the remaining planets throughout Pasadena. For example, one possible Jupiter site falls at the north end of the Garfield Avenue View Corridor, on the lawn in front of the Pasadena Central Library. The scale reduction does not affect the sizes of the imaginative sculptures — it only reduces the sizes of the already tiny scale models atop their pedestals.

As of today, The Planetary Society is seeking one or more sponsors to cover the $200K total cost of installing the Sun and Earth sites (Phase II in the timeline), while securing the scale locations for the others. The total to be sponsored will be $1.2 million for all ten sites through Phase III. Planet Trek has the advantage that charitable contributions to The Planetary Society are tax-deductible in the United States, as The Planetary Society is a scientific and educational nonprofit organization under Section 501(c)(3) of the Internal Revenue Code. For information about becoming a sponsor, please contact Andrea Carroll at 626-793-5100, extension 214, or e-mail: andrea.carroll@planetary.org.

Once funding for the Planet Trek Sun and Earth sites has been secured, we'll begin accepting sponsorships for additional sites, and for the Great Question plaques from a hundred individuals or companies wishing to be recognized as contributors. Watch for the announcement here at this website (please note there's no "www").
http://planettrek.planetary.org
Thank you for your interest.
Please visit again from time to time.
The Planetary Society